Chi ha un LASER ne vuole avere uno più potente. E così, non soddisfatto dell'Elio-Neon da 1,7 mW, ne ho comprato uno a diodo da 30 mW! Lo puoi vedere qui sotto: si tratta di un Mitsubishi ML1016R. La lunghezza d'onda d'emissione è 660 nm.
The owner of a LASER wishes another one of more power. So, not so satisfief of my 1,7 mW Helium-Neon, I bought a 30 mW diode! You can see it here below: it is a Mitsubishi ML1016R. The emitted wavelength is 660 nm.
Lo zoccolo, per non saldare direttamente i pin del LASER, è stato realizzato partendo da una fila di contatti a tulipano per circuiti integrati.
The socket has been prepared from a strip of contacts for integrated circuits.
Per renderti conto delle dimensioni, considera che il cavo di collegamento è un normalissimo cavetto schermato, piuttosto sottile, per impianti stereo.
To realize its dimensions, consider that the cable is just a normal small stereo shielded cable.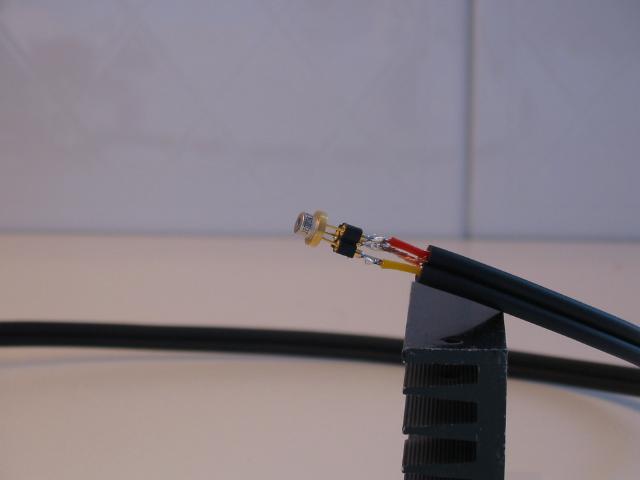 Qui sotto si vede la scheda di pilotaggio durante le prove preliminari. È stata acquistata dalla Roithner di Vienna. Si tratta del modello CCA (Common laser diode Cathode and photodiode Anode). Per le connessioni del LASER vedi le foto più sotto.
Here below you can see the drive during the test. It has been bought by Roithner of Vienna. It is the CCA (Common laser diode Cathode and photodiode Anode) model. For the diode pinning see the photos below.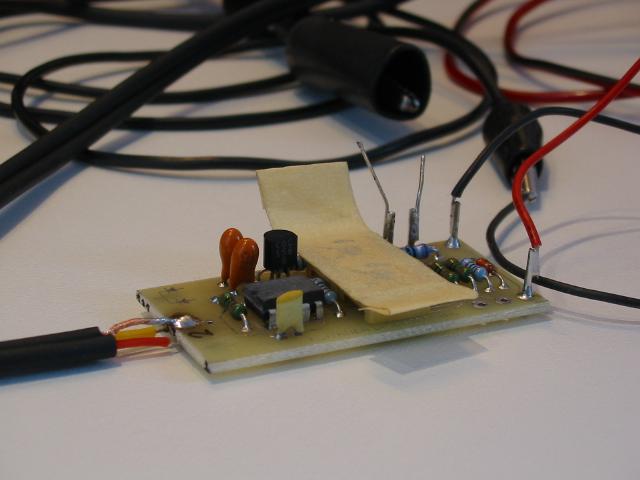 Qui sotto si vede il fascio così come viene emesso dal diodo. È evidente che un LASER a diodo emette un fascio che non è collimato. Questo è un LASER che può essere utilizzato per olografia. Lo usa, infatti, Francesco Arcidiacono. Il LASER è montato su un dissipatore provvisorio utilizzato per le prove e le tarature.
Here below you can see the beam as it is emitted by the diode. It is evident that a LASER diode emits a non collimated beam. This LASER can be used for holography. In fact it is used by Francesco Arcidiacono. The LASER is mounted on a heat sink used for the tests.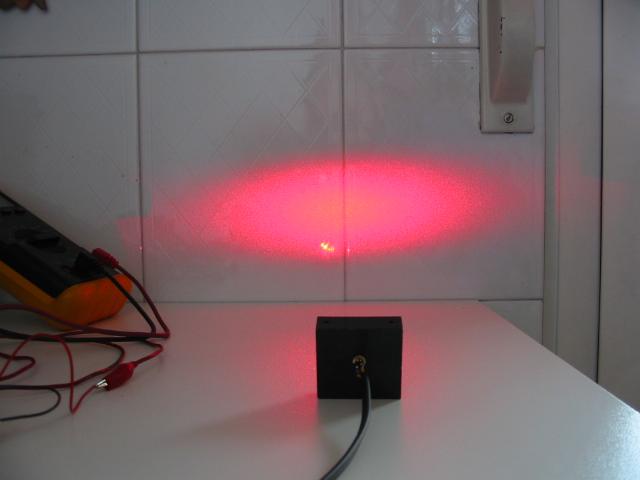 Qui sotto si vede il LASER montato nel tubetto portacollimatore e l'etichetta con i dati di targa del mio esemplare. Prima di ricevere il diodo mi ponevo il problema di come avrei fatto ad effettuare la taratura della potenza, senza un misuratore ottico. Tutto è stato risolto quando ho letto che bastava far assorbire al LASER 84 mA a 23 gradi ...
Here below you can see the mounting tube for the collimator and the label with the individual data. Before I got the diode I had the problem of adjusting the power without an optical power meter. Everything has been resolved when I red that it was enough to supply the LASER with 84 mA at 23 degrees ...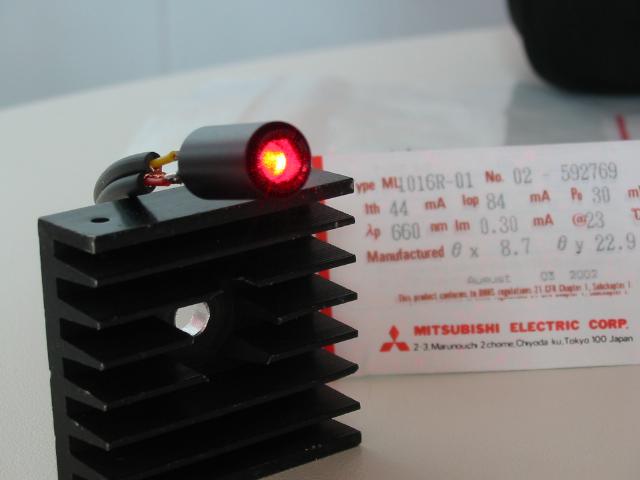 Qui sotto si vede la visione di insieme del LASER montato. Il cubetto di alluminio sporgente è la protezione per il collimatore.
Here below you can see the comprehensive view of the LASER. The small aluminium cube acts as collimator protection.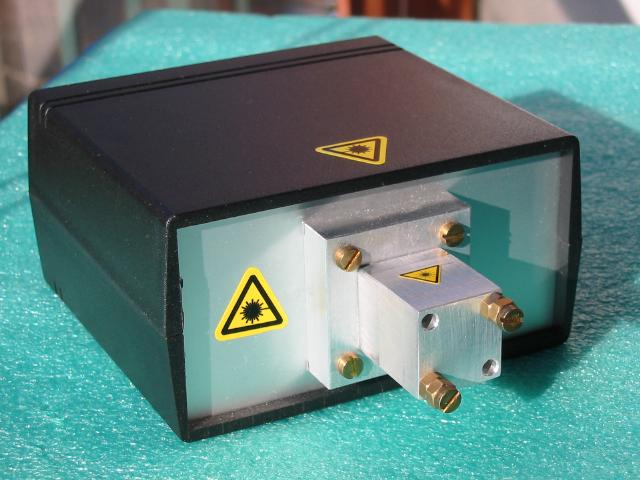 Qui sotto è ripreso il dettaglio del collimatore.
Here below there is a close-up photo of the collimator.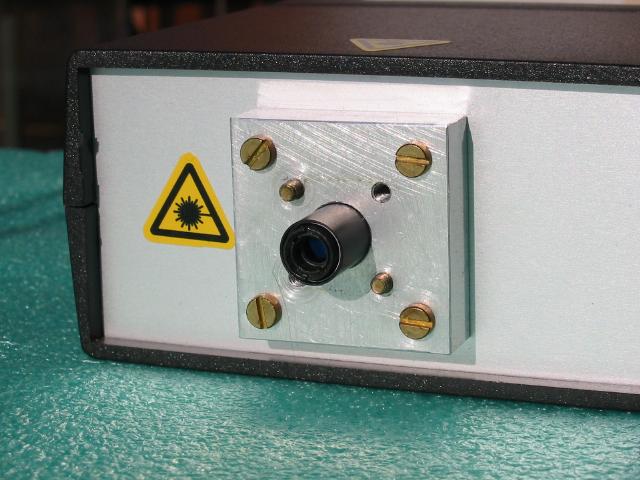 Il contenitore aperto. Si può vedere in alto la scheda di pilotaggio e in basso l'alimentatore switching che permette di alimentare il tutto da 9 a 36 V.
The opened box. Above you can see the driver and below the switching power supply used to power the LASER from 9 to 36 V.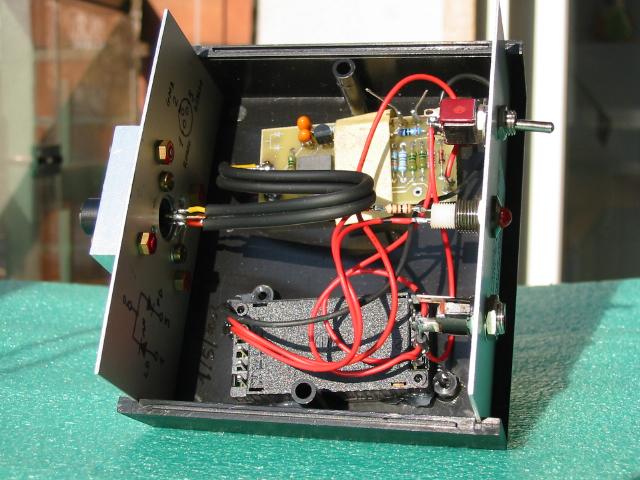 Qui sotto c'è il collegamento del diodo LASER; si vede disegnato lo schema interno di collegamento.
Here below you can see the LASER diode pinning.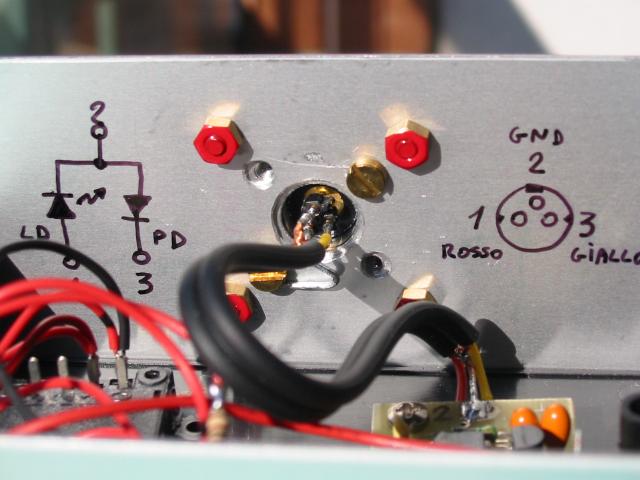 Qui sotto è raffigurato il dettaglio della molletta che tiene premuto il diodo sulla battuta del tubetto portacollimatore. È stata realizzata partendo da un piccolo fermaglio, opportunamente deformato. Purtroppo la profondità di campo della foto è ridotta ma, considerando il campo inquadrato, è ragionevole.
Here below you can see a close-up picture of the small spring used to press the diode on the collimator tube. It has been prepared from a small deformed clip. Unfortunately the deep of field is reduced but it is reasonable if you consider the framed area.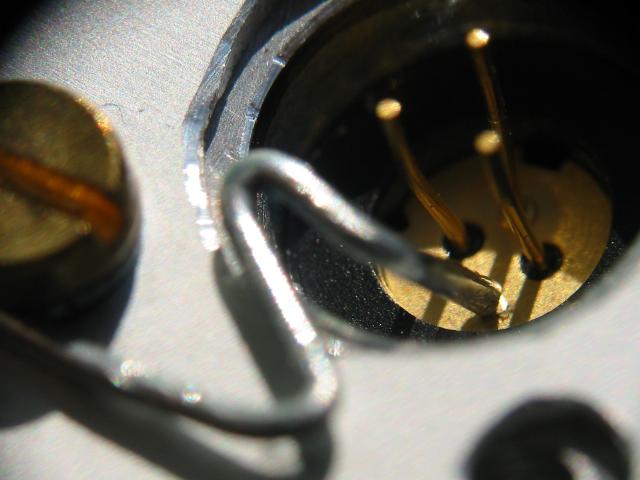 La luce emessa dal mio LASER a diodo non è particolarmente dannosa (è di classe IIIb): basta evitare di guardare direttamente il fascio.
Attenzione! Stai attento ai LASER! Altri modelli possono essere molto pericolosi!
The emitted light of my LASER diode is not so harmful (its class is IIIb): it is enough to avoid looking directly at the beam.
Pay attention! Beware of LASERs! Other LASERs can be very dangerous!
Per vedere le statistiche di accesso a questo sito dal 9 agosto 1999:
To have a look at the statistics of this site from August 9, 1999:

Torna in cima alla pagina
Back to top
Copyright © 1999-2023 Alberto Marturini
Pagina aggiornata il: 30 novembre 2003.
Last update of this page: November 30, 2003.
$