Benvenuto - You are welcome


For the international version of this site follow the italic types!! :-)
Do you need international help? Sorry, english only! ;-)

Se io ho una moneta, tu hai una moneta e ce le scambiamo, ciascuno ha una moneta. Se io ho un'idea, tu hai un'idea e ce le scambiamo, ciascuno ha due idee.
If I have a coin, you have a coin and we exchange them, each one has a coin. If I have an idea, you have an idea and we exchange them, each one has two ideas.
Da un po' di tempo io e mia moglie abbiamo due bellissimi mici neri, dal passato avventuroso e dai caratteri dolcissimi.
It's for some time that my wife and I have had two beautiful black pussy-cats, with adventurous past and a lovely nature.
Posseggo anche un po' di LASER. La luce dei LASER è magica.
I own some LASERs too. The light of LASERs it's magical.
Da parecchi anni mi attrae l'astronomia, ma è solo da pochi che ho acquistato un telescopio con il quale mi diletto a fotografare tramite una telecamera ed una WebCam, oltre che, naturalmente, a guardare nell'oculare.
It's far from years that I'm interested in astronomy, but only few years ago I bought a telescope that I use to get images by a video camera and a WebCam, besides of, obviously, to look into the eyepiece.
Sono pure uno "smanettone": mi piace costruire ed osservare piccole apparecchiature elettroniche e cose varie. Tra le altre, un contatore Geiger e uno spettrometro gamma.
I'm also a builder and observer of small electronic devices and some miscellaneous interesting things. Among the others a Geiger counter and a gamma spectrometer.
Inoltre è disponibile la mappa del sito.
Further, the site map it's available.

Calibra il tuo monitor: devi vedere una scala di 16 livelli di grigio.
Please calibrate your monitor: you have to see a 16-level gray scale.

Le immagini di questo sito sono a 16 milioni di colori.
The images of this site are 16-million coloured type.

Questo sito fa parte dell'ETX WebRing, dedicato al famoso telescopio.
This site is part of ETX WebRing, dedicated to the famous telescope.


Navigation by WebRing.

Questo sito è stato creato il 1° aprile 1999.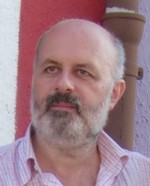 This site was created on April 1, 1999.
*differenti* visitatori dal 19 aprile 1999.
*different* visitors from April 19, 1999.

Per vedere le statistiche di accesso a questo sito dal 9 agosto 1999:
To have a look at the statistics of this site from August 9, 1999:


Per ogni informazione, commento o anche semplicemente se questo sito ti piace scrivimi (ricopia l'indirizzo di e-mail qui sotto)
For any information, comment or even merely if you like this site email me (retype the e-mail address here below).

Questo invece è un link per gli spammatori!
This is a link for the spammers!

Ringrazio WebCounter che fornisce il contatore delle visite.
Thanks to WebCounter that offers the counter.
Torna in cima alla pagina
Back to top
URL = http://www.albertomarturini.it
Copyright © 1999-2023 Alberto Marturini

Pagina aggiornata il: 12 febbraio 2023.
Last update of this page: February 12, 2023.

$