For the international version of this site follow the italic types!!
Do you need international help?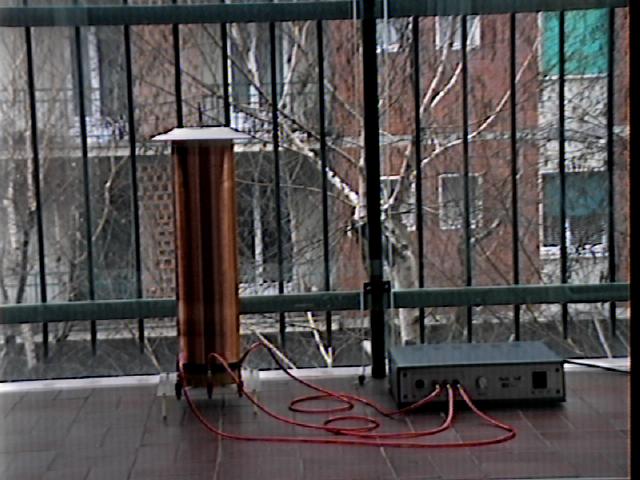 La macchina di Tesla è sicuramente, tra tutte le macchine elettriche, la più spettacolare.
The Tesla coil is surely the most spectacular among all electrical machines.
Tecnicamente è un trasformatore ad alta frequenza, accordato, che permette di ricavare tensioni elevatissime.
Strictly speaking it is an high frequency tuned transformer that originates very high voltage.
Il mio trasformatore di Tesla è in grado di generare circa 200000 Volt (con scariche elettriche di circa 15 cm). (Nella foto sopra si vede il trasformatore vero e proprio e l'alimentatore a radio frequenza.)
My Tesla coil is able to generate about 200000 Volts (with sparks about 15 cm long). (In the above picture you can see the transformer with the high frequency power supply.)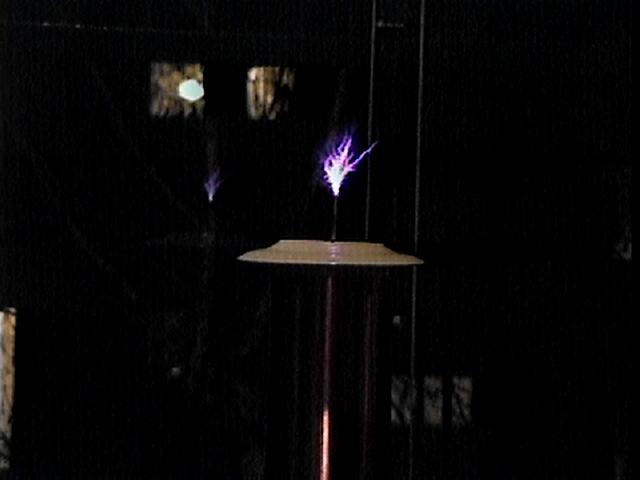 Nella foto qui sopra si può vedere la scariche elettriche che si sprigionano dall'estremità superiore del trasformatore.
In the above picture you can see the brush sparks emitted from the upper end of the coil.
Quello che ho io è stato realizzato basandosi su un kit di Nuova Elettronica. La frequenza di risonanza del trasformatore è circa 240 KHz e la potenza di alimentazione è di circa 300 W. È un trasformatore di Tesla con alimentatore allo stato solido, basato su MOSFET.
L'avvolgimento secondario ha un diametro di 12 cm ed una lunghezza di 45. Il primario è costituito da 5 spire avvolte sul secondario.
My Tesla coil is based on a Nuova Elettronica's kit. The tuning frequency of the transformer is about 240 KHz and the power supply is about 300 W. It is a solid state Tesla coil, MOSFET based (no spark gap).
The secondary has 12 cm in diameter and 45 cm in length. The primary is made of 5 turns wound on the secondary.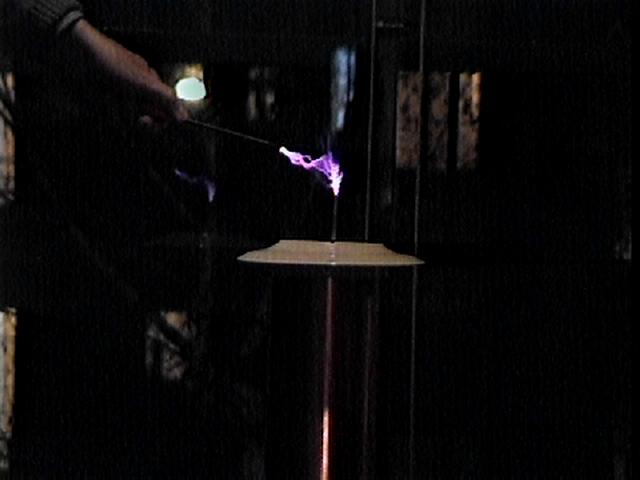 Nella foto qui sopra si può vedere la macchina in funzione mentre la scarica elettrica raggiunge una bacchetta di acciaio che sto tenendo con la mano nuda.
In the above picture you can see the Tesla coil running while the sparks reach an iron rod held by my naked hand.

Le scariche elettriche che si ottengono all'estremità del secondario del mio trasformatore di Tesla sono innoque: al massimo possono provocare delle ustioni, ma assolutamente non la folgorazione. Ciò in virtù dell'"effetto pelle": le correnti ad alta frequenza si propagano solo sulla superficie dei conduttori e non al loro interno.
Attenzione! Stai attento ai trasformatori di Tesla! Altri esemplari possono essere molto pericolosi!
The sparks originating from the upper end of the secondary of my Tesla coil are harmless: at the most they can cause some burning but not fulguration. This is because of the "skin effect": at high frequences the current propagates itself only on the surface of a conductor, not inside it.
Pay attention! Beware of Tesla coils! Other Tesla coils can be very dangerous!
Si può ammirare uno splendido esemplare antico di macchina di Tesla, purtroppo non più funzionante, che era in grado di generare scariche elettriche lunghe un paio di metri!, al Museo Nazionale della Scienza e della Tecnica a Milano.
You can see a wonderful ancient Tesla coil, unfortunately no more working, that was able sparkling for about 2 meters long!, at the National Science and Technology Museum in Milan.
Dai un'occhiata alla mia home page: penso che sia interessante per te!
Please have a look at my home page: I think it's interesting for you!
Questo sito fa parte del Tesla Coil WebRing.
This site is part of Tesla Coil WebRing.



Tesla Coil Ring
Per vedere le statistiche di accesso a questo sito dal 9 agosto 1999:
To have a look at the statistics of this site from August 9, 1999:

Torna in cima alla pagina
Back to top
Copyright © 1999-2023 Alberto Marturini
Pagina aggiornata il: 15 febbraio 2010.
Last update of this page: February 15, 2010.
$